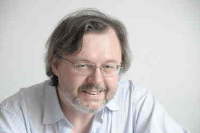 Zbigniew Lisiecki




(nick: zlisiecki),

physicist

,

computer scientist



E-mail contact
Some elder computer science:
How to install Linux:&nbsp the shortest polish tutorial for beginners
Network Programming : Remote Procedure Calls
I don't do this and advice others not to do:

I don't use operating system from Microsoft.
I don't use facebook nor any simmilar web services.
I don't sign my public statements with anonymous nicknames.
I don't produce graphical nor multimedia mails,
and at most I'd not receive them.
I don't put references to google statistics nor simmilar filters.

I don't speak to a computer display, but rather to people.

I don't respect truths not emerging from freedom
I don't recognize sponsored truths.

I respect feelings and obligations, but I don't accept obligations to feel.

I support: